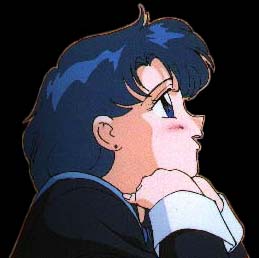 Click below for
AMI MIZUNO's
---
[ Background ]
[ Style and Fashion ]
[ Love Files ] [ Mini-Movie ]
[ Seiyuu ] [ Other Stuff ]
---


Ryo Urawa
He became Ami's schoolmate briefly. A match for Ami in terms of intellect, Ryo has psychic powers too. He knows her secret identity, and they have been through a lot together. They share a special bond, though not formally boyfriend-girlfriend. Ryo moved away but they still keep in touch.

Mamoru Chiba
Close friend to Ami, who is Usagi's boyfriend. Ami can talk to Mamoru about anything, probably because he is one of the most mature in the group. He always takes time out to listen to her. Mamoru finds Ami pretty. Ami once teased Usagi that maybe she should compete with her for Mamoru...

Sumi Kurume
Ami's secret admirer who used the codename "Mercurius" and sent her love letters. He is Umino's friend. She never found out about Mercurius' true identity, but her friends did. Not wanting to disappoint Ami, their lips remain sealed to this day. Ami remains intrigued.